Dear Customers,
As we continue to see delays/ increased dwell time, especially for containers moving via Vancouver and Prince Rupert, we have requested updates from carriers, and would like to share with you the current status. We hope the update will help you better schedule your production, sales, distribution.
We would like to reassure you that our CSR and Operations teams are monitoring all the shipments. Please do not hesitate to contact them for updates ETAs at final destination.
Vancouver and Prince Rupert Port Terminals
Overall, the current average dwell time (waiting time for loading on rail) is expected to remain high (10 to 15 days) for all Vancouver marine terminals. The rail count has further increased this week.
Deltaport: Due to the transition to a new system, the terminal continues to experience rail operational disruptions, reduced productivity, and increase in dwell time for import loads over the course of the next 3-4 weeks. Throughout this time the vessels will be delayed with min one week to maintain terminal fluidity
Centerm: The terminal yard capacity already reached max capacity, causing a major backlog, with the possibility of some of the containers being buried under new containers coming in. Based on current update from Centerm, they are expecting another 2-3 weeks before the backlog is cleared.
Vanterm: The terminal also experiences vessels calling back to back, without the necessary time to clear the backlog. Expect delays of at least 1 week dwell time.
FSD: The following communication has been received from Ciffa in regards to the delays at FSD and the message from the FSD CEO Jeff Scott ( letter from Jeff Scott ) describing the terminal's efforts to overcome delays. The letter says: "As an update, we are starting to see some positive improvements with respect to container handler equipment availability. We continue to monitor things closely and remain focused on full implementation of our plan that involves integrating newly arrived equipment into our existing fleet, pushing to expedite the delivery of remaining new equipment and utilizing more machines towards the container truck gate operation. As a result, our truck turn times have significantly improved this week and we have avoided long truck line ups/wait times." The letter also notes procedural changes related to communications and reservation requests intended to improve service.
Prince Rupert: Dwell time is around 5 to 10 days; containers will be loaded on first train to destination once discharged from vessel; there are approximately 119,000 container on ground waiting for loading, CN has cars for a daily production of 31,550 containers.
We have been advised that the situation is expected to improve by mid –November.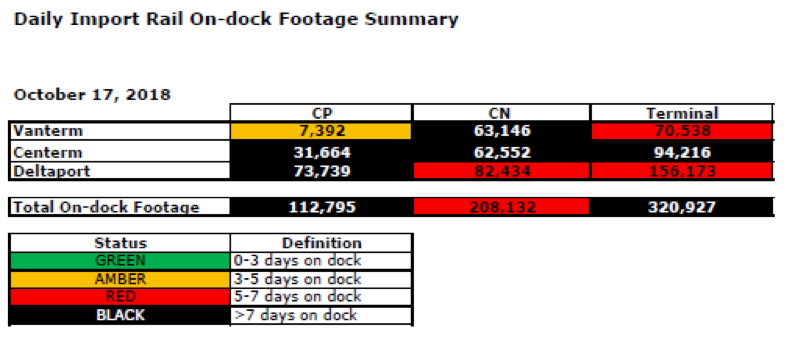 Halifax Port – The Dwell time in Halifax is around 7 days.
Kind Regards
ITN Logistics